List of 10 Top Softwares for 3D Printing in 2021
You can make amazing items with 3D printers. Apart from using a top-quality device, you also need a perfect template. You create these with 3D design software solutions. Although the tool selection is impressive, they vary in features and capabilities. It's critical to pick the best printing software for your needs.
This guide focuses on listing top tools and their main characteristics. It'll help identify the software that meets your expectations. Keep reading and discover the best tool choices in the market!
What Are the Top Softwares for 3D Printing in 2021?
Many excellent solutions exist on the market. Some manufacturers even develop software that's compatible with their machines. Other brands provide tools for free and ensure they can do a good job with the printer you acquired.
These factors should play a crucial role when choosing a 3D printer design software:
Compatibility

. The device and the software you have should work together effortlessly. Apart from that, check if you can run the tool on the desired operating system. You have different software for Windows, Mac, etc.

Price

. Some software solutions are free to download and use forever. Others are premium, but you can try the product via a trial. You might get complimentary 3D printing software when purchasing the device.

Capabilities and features

. 3D software varies in many areas. You want maximum customization possible. Focus on the tool's suitability for the desired niche or product.
It's time to check the top software solutions currently available!
1. Autodesk Fusion 360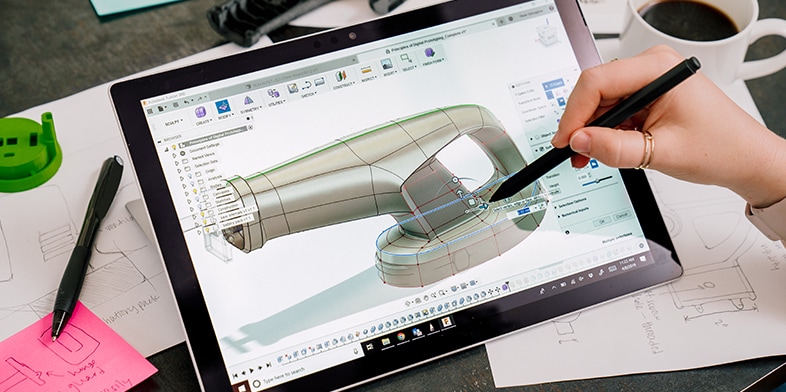 Type: Premium
Autodesk is a premium brand that created multiple amazing CAM and CAD solutions. Fusion 360 is among those. It's probably the best 3D printing software for all user levels. You can get a free education license as a student. It helps to learn the basics before you get to designing professional models. Autodesk Fusion 360 has a month-long free trial, but you'll need to buy a license afterward.
The tool gives fantastic control over shapes. You can design any object form easily. Modeling ensures working on details. That means your templates can have a high level of precision. If you need to adjust something, the History tree will help. Autodesk also added the simulation feature. It allows testing the design for functionality.
You might not work alone on a project. Fusion 360 allows real-time collaboration with other designers. It ensures maximum team efficiency. As for the niches, Fusion 360 is versatile. It gives the best results when designing mechanical parts. Designers, engineers, and machinists will all love working with this tool.
2. Ultimaker Cura
Type: Free
If you are looking for free 3D design software, you can't go wrong with Cura. Ultimaker designed it, which means it works best with their printers. However, it's an open-source project. That makes the software versatile and suitable for most other units.
Cura has many profiles available within the tool. You can also import those created by others. It makes this tool fantastic for beginners. If you don't need advanced functions, activate the Basic mode. This is where you can adjust the printing fundamentals. Advanced users will appreciate other options. You can pick between four levels, with All unlocking every adjustment possible. While there are over 400 settings, make sure you understand the changes you are making.
Cura provides direct printer control by acting as a host tool. It integrates with Siemens NX and Solidworks. That makes it useful for professional applications. You'll find helpful articles on how to begin and use Cura's full potential. The program receives updates regularly, so fixes and new features are constant.
3. Autodesk AutoCAD
Type: Premium
Autodesk keeps two of the three top spots for a reason. AutoCAD is another solution to use for professional 3D printing. Similar to Fusion 360, you can get a free educator and student license. If you want a premium license, it costs over $1400 per year. It's expensive, but it delivers a host of features in return.
If you need a detailed model, AutoCAD is there. Once you install the tool, you'll find many plugins and info. That makes it easier to build different designs, such as windows and doors. Integration with other programs is impressive. You can attach data from PDFs but also export information to tables. Adding drawing annotations and converting 3D models to STL files only takes a few clicks. AutoCAD works with the DRG format to ensure efficient file drafting.
The program is about designing 3D models for professional purposes. It's also great for data presentation and analytics. You can install the internet and mobile phone AutoCAD app to use some features on the go. This is a true all-around 3D printing software that will exceed the expectations of even the most demanding users.
4. PrusaSlicer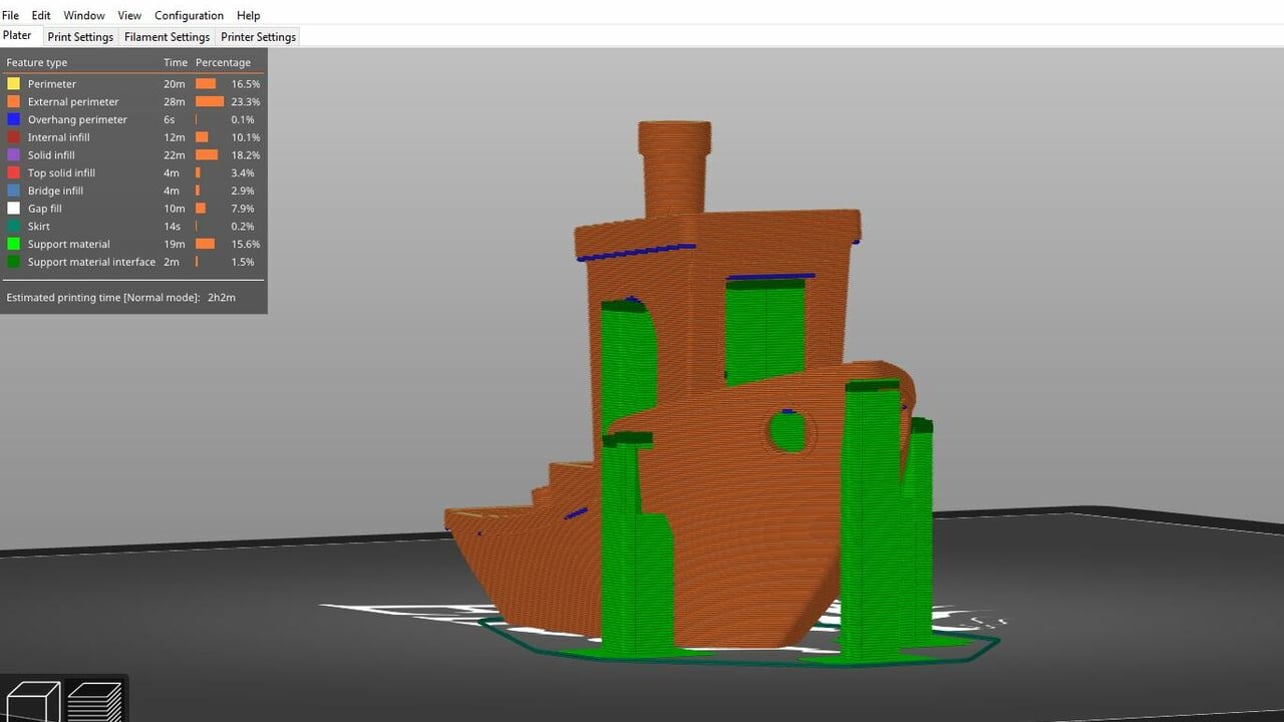 Type: Free
Prusa is a famous brand in the 3D printing industry. Their devices have many happy users, and the same is true for this slicer. The company used an open-source program, Slic3r, to design this software. PrusaSlicer applies the impressive list of adjustable options. Most are from Slic3r, but it also includes new features.
The designers made a new interface. It's friendly to beginners and allows simple navigation. The software supports multiple materials within a single project. You can adjust different layer height functions. Another feature is a customizable support structure.
You can use PrusaSlicer with resin and FDM printers. You have many settings but start slowly. Beginners have the Simple mode, while advanced users can activate Expert settings. You can import custom profiles easily, which makes the printing adjustment easier.
5. Solidworks
Type: Premium
Are you a cutting-edge designer that needs a reliable tool for innovative models? Dassault Systems designed Solidworks as a 3D printing software solution for professionals. If you only plan at-home or simple projects, stick to simpler options. Solidworks isn't only more complex but also expensive. You need to send a request to even get the tool's price.
Many professionals consider Solidworks the best 3D printing software. The developer aimed to add many unique features. Pros use that to their advantage to create fantastic models. If you are aiming for 3D printing innovation, this tool is a mandatory choice. You can use validation and reverse engineering options to simplify model creations.
If your model needs curvatures, Solidworks will impress you. It uses the NURBS system that makes designing these shapes simple. Resizing components is easy with dimensional sketching. The developer made a unique 3DEXPERIENCE option. It simplifies project management and model delivery. That's vital for those working in teams. Solidworks has a learning curve, and even professionals will need time to adjust. But once you discover its potential, you can do wonders with this 3D design tool.
6. Raise 3D ideaMaker
Type: Free
This is another 3D design software solution focused on specific printers. Raise 3D designed this slicer to offer maximum compatibility with its devices. Those who tested ideaMaker claim that it also works fine with other brands.
The software is available on Windows, Linux, and Mac. It doesn't take much room on your device. It's compatible with filament printers. Apart from being a slicer, the tool also serves for STL repair. The interface isn't as intuitive as in other tools. While ideaMaker has a learning curve, it also makes deep adjustments possible. 
Many designers will appreciate the option to wrap textures on their models. Many companies brand their parts, and this feature simplifies the process. The software has customizable support structures. If you have a large print, use splicing for optimization. The tool connects to the company's cloud. Its community is diligent, and you have access to many material profiles. If you use the software often, make your own library for easier navigation.
Working on models for hours can be a strain. That's why Raise3D ideaMaker has light and dark modes. It reduces eye strain risk, and it can be convenient to identify details you missed. The software allows putting multiple tasks in a queue. Those types of useful features make this free tool worth considering.
7. TinkerCAD
Type: Free
This is a web-based program, and that's a crucial feature. You can download an app, but it's also possible to access it from an internet browser. That makes TinkerCAD convenient for those who don't want to waste storage on their computers. While this 3D printing software is free, it offers decent features.
TinkerCAD offers STL file support, which is important for designers. The tool supports both 2D and 3D models to maximize versatility. If you have a model ready, you can start printing with a click. The tool can even handle laser cutting, which is impressive.
The software has a clean layout. You'll be comfortable with its basic features immediately. It's necessary to scratch under the surface for advanced options. TinkerCAD offers a comprehensive tutorial with the tool.
8. Creo
Type: Premium
The biggest advantage Creo offers is using augmented reality. It allows simulating your 3D design in an actual environment. That gives a better idea of its sizing and other details. As for design creation, Creo will exceed your expectations.
Parametric Technology maximized the tool's functionality. You won't find many better solutions for topology optimization. The program has many tools to deliver fantastic designs. From thermal and structural to other functionalities, you'll love the options available. Creo is a smart program since it can leverage data from real-life models. The model-based definition makes embedding data in 3D models easy.
Creo comes with a 30-day free trial. After testing the product, it's necessary to acquire a subscription. A lifetime license is a great option if you have long-term pricing plans. After a few years, the tool will prove to be a much better value for money than premium competitors.
9. Rhinoceros 3D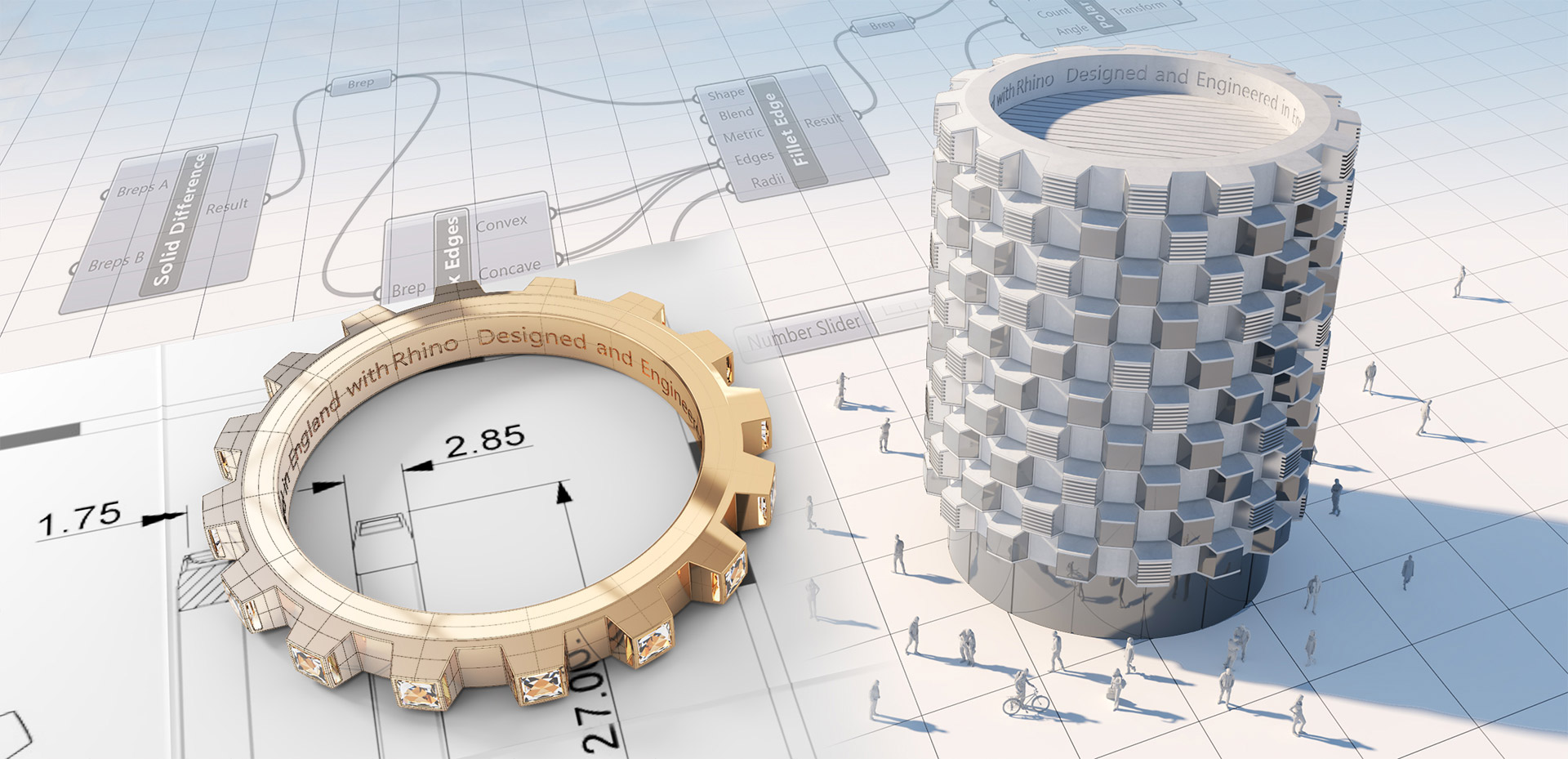 Type: Premium
Rhinoceros 3D is a hidden gem in the printing software industry. If you need a versatile modeler, this tool is a wise choice. The NURB model ensures fantastic precision. You can work with points, curves, and other components with incredible accuracy.
Designers are the ones that should try Rhinoceros. The feature range that makes their job easier is admirable. Your model can show control points, which simplifies design manipulation. You can point edit meshes, surfaces, and curves. It ensures making the desired shape simple.
Adding dimensions in any viewpoint is convenient. The tool is compatible with multiple other solutions. You can import work from AutoCAD, SolidWorks, and other software. You can even get the point data from a cloud. Another useful feature is the option to check and fix meshes and IGES files.
Rhinoceros 3D is available for Windows and Mac. The price is lower for students and educational purposes, and there are tempting deals for schools. It's a one-time fee, so the licenses are permanent.
10. SketchUp
Type: Premium
If architectural design is your industry, SketchUp is the program you need. It can also serve in other drawing applications, such as entertainment and mechanical engineering. The software has one of the best VR experiences. Once you finish the model, you can simulate how it looks in an actual environment.
SketchUp is beginner-friendly. It has a minimal learning curve, especially for such potent software. You can pick from many templates and work on your model. Teams will find the collaborative workspace comfortable. You can share designs and relevant data in seconds. It's possible to scale 3D drawing sets to 2D for easier presentation. Thanks to cloud storage, it's easy to access projects from anywhere.
SketchUp has a free basic 3D modeling web-based tool. You can also go with multiple premium versions. Their features and pricing vary significantly. Beginners will appreciate affordable deals. Premium users might need to pay extra for advanced features.
You can also check our article on the 10 Best Laser Cutter Engraving Machines in 2021.
Final Thoughts
Thanks to the plethora of options, you should easily find the 3D design software you need. Beginners will appreciate free solutions to learn the fundamentals. You can visit top 3D printing online stores and order models that come with complimentary software. These guarantee everything will work flawlessly with the chosen device.
And if you are a professional, it's smart to invest in an advanced solution. Premium tools can help to make innovative, detailed, and precise designs. Make sure to find suitable software and try 3D printing to see its amazing capabilities today!