5 Economical and Budget-Friendly 3D Scanners
Trying out a 3D scanner handheld doesn't have to empty your pockets. Although not as good as the more expensive models, the cheaper versions can do the basic functions of a 3D scanner, which is good enough if you're just starting.
It's easy to find a cheap 3D scanner, but it's better to know what's out there before you buy anything. If you're going for a cheap version, might as well get the best one in the market. We listed down a few of the budget-friendly 3D scanners that you can get right now.
Affordable 3D Scanner Handheld
1. Phiz Scanner
When you're looking for cheap 3D scanners, Phiz Scanner is always one of the top choices. It's very affordable, and it can do its job efficiently. With an accuracy of up to 0.2mm and a scan area of 50mm³ to 400 mm³, you can scan smaller objects without a hitch.
The Phiz 3D scanner is made by Kiri Innovation, and it is quite different compared with other affordable scanners. It uses the power of the CPU and camera of your mobile phone to improve its accuracy in creating 3D models.
This model comes with a turntable that you can connect to your phone. It will wirelessly instruct the platform to rotate so the object will be scanned in 3D.
2. BQ Ciclop
The BQ Ciclop is one of the cheapest models on our list, but it is also one of the best options if you need a basic 3D scanner. Basically, this company is known for its 3D printers, but they created and designed the Ciclop to give their customers a cheaper alternative when scanning things.
This scanner offers a pretty good scanning volume of up to 250 x 205 mm. It is using laser triangulation technology, so it is pretty efficient. You won't have to hold the scanner and move it around to completely scan the object.
The best thing about this 3D scanner is that it is completely open-source. It means that you can modify it based on your preference. As long as you know how to modify the source, it will have limitless potential.
When it comes to specifications, it is already good for its price. It has a resolution between 0.3 to 0.5mm. Whether you're still new to 3D scanning and printing or you've been doing it for a few years, this scanner is definitely a good choice for you.
3. The Structure Sensor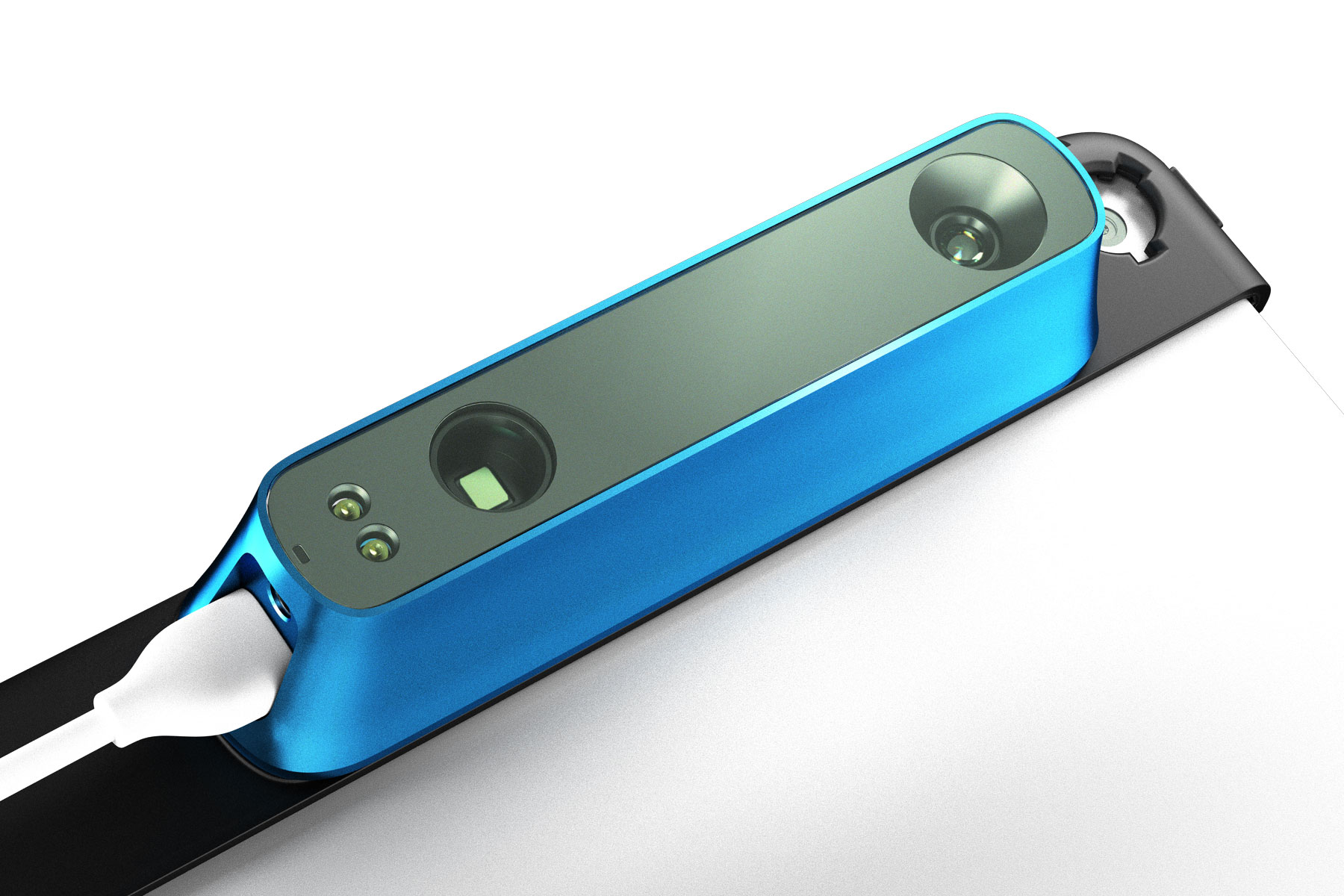 The Structure Sensor is currently one of the most popular options if you need an affordable 3D scanner. With the iSense being discontinued, this scanner replaced it and became one of the best choices.
This scanner is made for the iPad and iPhone, but you can use a hacker USB to mini USB cable if you want to use it for other mobile devices. This is one of the reasons why you should opt for this 3D scanner. It is extremely versatile, allowing you to use it on a multitude of devices without having any effects on its quality.
One of the best reasons to buy this 3D scanner is its endurance and open software development kit. This enabled the scanner to have more middleware products and compatible 3D scanning apps. This is a safe choice if you want something that is very affordable and lasts for a long time.
4. Sol 3D scanner
If you are looking for a 3D scanner that is not too cheap but still below the $1000 price range, the Sol 3D Scanner is the best choice for you. It is the most expensive model on the list, but it provides better features compared to the others. This is an affordable scanner that can scan small to medium-sized objects with great accuracy.
For scanning smaller parts or objects, it features a Near Mode option to capture all the details and for larger objects, you can use the Far Mode option to fully capture everything else.
The Sol 3D scanner comes with a special 3D scanning software that will allow you to export object scans to different file formats. It means that you can transfer the scanned file anywhere, or you can directly send it into a 3D CAD software tool.
This particular scanner was made specifically for hobbyists and small-time entrepreneurs who want to expand their product presentations. Compared with the other models, this 3D scanner offers more accurate scanning abilities, so businesses can benefit greatly from it.
Matter & Form is a Canadian 3D scanner startup that releases affordable scanners for hobbyists and small-time businessmen. They recently released the V2 of their 3D scanner, which allows you to accurately scan up to 0.1mm because of its 2 lasers along with the HD-CMOS sensor. Although not as expensive as the Sol 3D scanner, it packs a wide range of features that you will surely love.
This model comes with its very own 3D software tool. You can use it to edit the file and transfer them anywhere you want. If you plan to 3D print the scans, you can import them effectively in your 3D printer software. You can print remotely through your internet connection, or you can use a USB or SD card to transfer it.
The only problem with this scanning device is its maximum scanning size. It is stationary when scanning, so it can only handle the things that are placed on its scanning platform. You can only scan things that are 25cm tall and 18cm wide.
Reasons to Use a 3D Scanner
A lot of people think that 3D scanners are only used by hobbyists and if you ever buy one, it is often used by big corporations. In the past, 3D scanners were only used by large companies to help them with product development. However, more and more smaller companies designed scanners that normal people can access.
Here are some of the reasons why you should buy an affordable 3D scanner.
Take note that the designing process is extremely difficult, and it takes a lot of time to process a new part. Processing a new part is more difficult than designing everything from scratch. By using a 3D scanner, you can reverse-engineer the object and it will check every part of the existing product to make sure that you can get the precise dimensions for the new part.
It will also save time if you need to change something from a current design. If you need to replace a certain part of the design, you don't have to start from scratch. You can scan it and you can efficiently get the calculations that you need.
Faster Prototype Creation
It's very hard to create an accurate prototype. Actually, you create multiple prototypes to get the best design for the product. You scrutinize every prototype and make changes to the next prototype that you make.
By using a 3D scanner, prototyping can be made faster. You won't have to create multiple prototypes to get the end product. You will only need to create a few ones to get the right product design.
3D scanning can reduce the prototype cycles for the design and production process, which will not only save time but also resources.
Faster and More Efficient Quality Control
A lot of issues can occur during the production phase. One of these is the possible issues with the design of the product once the production starts. Although the design process is done, a lot of problems will pop up when you're going to mass-produce a specific product.
3D scanners can efficiently check for possible deviations and prevent you from wasting money on defective products. You can check the quality of the design, stability, and scale of a product with great accuracy. These scanners can also check the entire shape of the product and compare it with the original design. This will help the manufacturers determine any problem before they release the product in the market.
Remanufacture Parts Without Using CAD
There are instances where you will be required to remanufacture a specific part of a product. If the part is faulty and you need to manufacture a more accurate part, it would take a lot of time to create them on your CAD software. With 3D Scanners, you can produce accurate reproductions even without the use of CAD.
You just need to scan the old part and use reverse engineering to create a CAD model. You can also use the scanner to make comparisons between the original CAD model and the prototype for accuracy.
Like what we've mentioned earlier, you can make comparisons between the actual product and the part that you want to create. 3D Scanners will give you accurate data on this, and you can even use them to produce a part that is perfectly similar to the original one.
All of these can be done in just a few hours, and you won't even need to spend the night just to get the data that you need. 3D scanners can make this possible, and you can get the information faster.
How to Choose a 3D Scanner
Before you buy a 3D scanner, there are a few important things that you need to know to make sure that you won't waste your money. Although you are only looking at affordable options, it is still important to pick the best one for your needs. Here are some of the factors to consider when buying a 3D Scanner.
Handheld devices require you to hold them while you do the scanning. You can move it around the object. This is perfect if your target subject can't be moved.
Stationary scanners are devices that stay in place. To scan an object, you will have to place the product on the platform provided. You will have to move the object around to complete the scanning process.
There are also models that allow you to hold the scanner or choose to leave it stationary. They are more expensive, but they are more versatile.
You need to consider the volume and coverage of the scanner before you buy. It is the area that the scanner can scan or capture. You need to choose one based on the type of project that you need to complete. If you need to scan a bigger object, a bigger scanner with more coverage and volume is the best choice.
If you're only using it for smaller items, you can opt for a scanner with average volume and coverage.
 definitely more accurate. When choosing the accuracy, you need to think about the products that you're going to scan. If there are so many details on the product that you need to scan, you should opt for a scanner with higher accuracy.
If the product is very simple, you can opt for the more affordable models.
This will depend solely on the type of work that you're doing. If the scanner will be used in the hospital or any establishment that is very time-intensive, you need a scanner with the fastest speed possible. They are definitely more expensive, but they can scan anything in just a few seconds.
More features mean that the scanner will be more expensive. The best way to save money and still get the scanner that you need is to check the needs of your project. If you don't need any complicated features and you can finish your task with only the basics, you can go for an affordable handheld scanner.
You can also check our article on A Beginner's Guide to 3D Printing | How Does a 3D Printer Work?
Conclusion
You won't have to spend a lot of money just to have your very own 3D scanner handheld. If you only need to use it for simple projects, then it's possible to find a decent 3D scanner for a very low price. Make sure that you check the features if you want to choose the best value for your money.
If you plan to buy a 3D scanner for your business or projects, there is a wide range of options available for you.